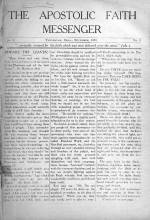 Abstract
Volume and issue number are interrupted.
The Apostolic Faith Messenger is a paper the Church of God of Apostolic Faith (COGAF), a Pentecostal denomination was started in 1914 by Edwin Buckles. The paper was published by O. H. Bond from Tahlequah, Oklahoma and later Oakgrove, Arkansas. Today the headquarters is located in Ramona, Oklahoma. See their website https://www.cogaf.org/
Oral Roberts University was granted permission to digitize and distribute freely this periodical on behalf of COGAF. No reproduction or distribution of this material is authorized without the consent of COGAF administration.
Recommended Citation
ORU Library, Holy Spirit Research Center, "Apostolic Faith Messenger (February 1937)" (1937). Apostolic Faith Messenger (Tahlequah, OK). 76.
https://digitalshowcase.oru.edu/apostolicfaithmessenger/76