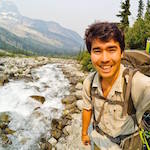 John Allen Chau was a 2014 graduate of Oral Roberts University who was slain by members of the Sentinelese people, a remote tribe on India's Andaman and Nicobar Islands. Chau believed God spoke to him to take God's light and gospel to one of the most isolated and hostile unreached people groups in the world. He knew that his work could result in his death but he was compelled by the love of Christ to try. Chau's story received global attention as news outlets around the world reported and commented on Chau's death as a result of his efforts to reach these people.
While at ORU, John, who graduated cum laude in 2014 with a B.S. in Exercise Science, was actively involved with both the men's soccer team and in local outreach, clearly demonstrating his heart for helping people. He organized numerous charity soccer events all over the world, including a soccer outreach to Tulsa's Burmese refugees, soccer clinics in Northern Iraq for Syrian refugee children and local Kurdish youth, and interning as a soccer coach at Ubuntu Football Academy in South Africa. While in Tulsa, he assisted in developing an after-school program to reach under-privileged youth where he faithfully served.
President William M. Wilson commented, "Oral Roberts University alumni have gone to the uttermost bounds of the earth for the last 50 years bringing hope and healing to millions. We are not surprised that John would try to reach out to these isolated people in order to share God's love. We are deeply saddened to hear of his death."
This is a collection of artifacts from John Chau's life as well as links to news reports of his death.
**Views expressed in the items posted on the Digital Showcase are those of the contributors only. Their publication on the Digital Showcase does not express or imply endorsement by the Digital Showcase or Oral Roberts University.**
Submissions from 2019
"Protestant Missionary John Chau's Deadly Adventure" - Angelus News, Richard Antall
Submissions from 2018
"WORLD American missionary wrote 'God sheltered me' before trip turned deadly" - AP/NBC News, AP
"John Allen Chau: Who was US man killed in remote islands?" - BBC, BBC
Instagram: John Chau, John Chau
The Final Thoughts of John Allen Chau, John Chau
Reflections on Alumnus John Chau, Stephanie Hill
The John Allen Chau Archive: Citations to Primary Sources, Major News Reports & Commentary, Thad R. Horner, Daniel D. Isgrigg, Angela Sample, Jane B. Malcolm, Sally J. Shelton, and Roger Rydin
Killing Of American Missionary Ignites Debate Over How To Evangelize - NPR, NPR
"US Missionary Killed by 'World's Most Isolated' Tribe" - Christianity Today, Kate Shellnut
"Should Missionaries Just Stay Away?" - Context, John Stackhouse
John Chau Reflections - Covenant Journey, Mat Staver
"Slain missionary John Chau prepared much more than we thought, but are missionaries still fools?" - Washington Post Perspectives, Ed Stetzer
"Christmas: Wow" with a Special Tribute to John Allen Chau, William M. Wilson
"Foolish 'Zealot' or Compassionate Man of God? Portrait Emerges of Slain Missionary John Allen Chau" - CBN News, Crystal Woodall
Submissions from 2010
John Chau- Sermon Fine Arts 2010: Youtube, John Chau