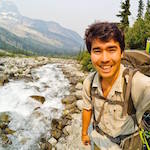 Title
The Final Thoughts of John Allen Chau
Publication Date
11-14-2018
Abstract
The final thoughts of John Allen Chau; This document contains the final pages of murdered Christian missionary John Allen Chau's journal.
"
A transcript of his final letter:
"You guys might think I'm crazy in all this but I think it's worth it to declare Jesus to these people. Please do not be angry at them or at God if I get killed, rather please live your lives as obedience to whatever He has called you to and I'll see you again when you pass through the veil. This is not a pointless thing, the eternal lives of this tribe is at hand and I cant wait to see them around the throne of God worshipping in their language as Revelation 7:9-10 states.
I love you all and I pray none of you love anything in this world more than Jesus Christ.
Soli Deo Gloria
John Chau
11/16/18 0620
Written from the cove on the southwest-ish (illegible) of North Sentinel Island."
Below is the link to the entire scanned journal.
Recommended Citation
Chau, John, "The Final Thoughts of John Allen Chau" (2018). John Chau Archive. 11.
https://digitalshowcase.oru.edu/chau/11