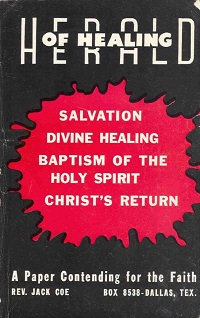 Abstract
Jack Coe (1918-1956) was a Pentecostal healing evangelist in the late 1940s and 1950s. His magazine, Herald of Healing was started in 1950 to document his ministry and the miracles that took place in his meetings.
® Holy Spirit Research Center, Oral Roberts University
These digital scans are copyrighted to Oral Roberts University's Holy Spirit Research Center are not to be re-distributed in any format.
Views expressed in the items posted on the Digital Showcase are those of the contributors only. Their publication on the Digital Showcase does not express or imply endorsement by the Digital Showcase or Oral Roberts University.
Recommended Citation
Coe, Jack, "Herald of Healing 2, no. 12 (Dec 1953)" (1953). Herald of Healing (Waxahachie/Dallas, TX). 8.
https://digitalshowcase.oru.edu/coehoh/8