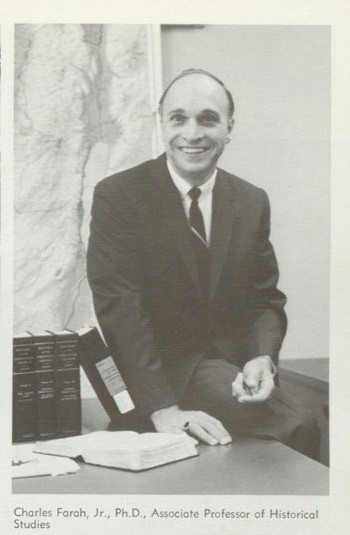 This collection of artifacts from and about Dr. Charles Farah Jr. begins with his lectures from Systematic Theology and from Church History from the Reformation to the Present.
Dr. Farah, called "Chuck" by those who knew and loved him, taught in the School of Theology from 1967 to 1991 and 1994-95. "What he really had was a love for the study of God," said his son Barry. That love has touched countless lives. Farah was described at his memorial service as "a life celebrator," "a courageous author," "a teacher and professor," and perhaps most important of all, "a discipler of men."
Farah joined the staff of the Navigators in June 1956 and served for eight years, helping to raise up men and women who continue to take the gospel all over the world. At ORU, Farah directed the World Action program and led teams of students to Kenya, Jamaica, Haiti, and Trinidad. His book From the Pinnacle of the Temple was controversial but has been called "one of the most relevant books of our generation."
In 1969, Farah founded Tulsa Men for Christ, a Bible study and evangelism group. He later founded Insight Ministries, a collegiate discipleship program, and helped establish Tulsa Christian Fellowship, a New Testament church. He also had a hand in founding Project Kibbutz and Living Sound, among other ministries.
Colleague Dr. Trevor Grizzle remembers him as "a scholar, a pastor, an author, a professor, a great man of God. But he was also my personal friend and mentor. During the time he lived in assisted living residences . . . , we spent countless hours . . . fellowshipping, talking about family and future, ministry, and the things of God. How precious, enriching, and inspiring were those times! To have walked with a true saint, a spiritual giant — what a blessing, a privilege, a challenge!"
Chancellor Oral Roberts considered "Dr. Charles Farah [to be] one of the ablest faculty members we had. . . . He was of inestimable value to me in advising me and helping me understand higher education. He always had a warm spirit, not only toward me but also toward the whole university, and he loved our students with a passion. He was a great and good man and did an outstanding work at ORU that will last far beyond his lifetime."
—Adapted from "'I have fought the good fight': Dr. Charles Farah, Jr., July 21, 1926 – Oct. 9, 2001," Excellence: A Magazine for Oral Roberts University Alumni and Friends (Tulsa: ORU; Fall 2001): 34.
Views expressed in the items posted on the Digital Showcase are those of the contributors only. Their publication on the Digital Showcase does not express or imply endorsement by the Digital Showcase or Oral Roberts University.
Browse the Theological Heritage of ORU: Charles Farah Jr (1926-2001) Collections: