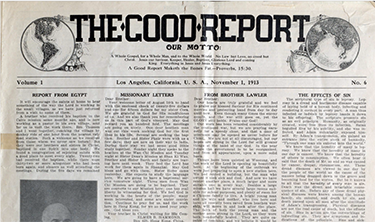 The Good Report is the monthly Pentecostal paper from Frank Ewart and R.E. McAlister of Los Angeles, CA. The paper's motto declares, "A Whole Gospel, for a Whole Man, and to the Whole World. No Law but Love, no creed but Christ Jesus our Savior, Keeper, Healer, Baptizer, Glorious Lord and Coming King. Everything in Jesus and Jesus Everything."
Contributors to the paper include later Henry Morse, G.T. Haywood, Harvey McAlister and D.W. Kerr. This paper is significant because it documents a period of reconciliation between the "finished work" and holiness groups following the confrontation at Azusa between William Seymour and William H. Durham. It also shows early Assemblies of God leaders working together weeks before the first AG General Council and prior to the "New Issue" oneness debate and separation in the Assemblies of God in 1916.
Artwork was designed by G.T. Haywood.
**Views expressed in the items posted on the Digital Showcase are those of the contributors only. Their publication on the Digital Showcase does not express or imply endorsement by the Digital Showcase or Oral Roberts University.**
Submissions from 1914
The Good Report vol 1, no 11 (Apr 1914), Holy Spirit Research Center ORU Library
Submissions from 1913
The Good Report vol 1, no 6 (Nov 1913), Holy Spirit Research Center ORU Library