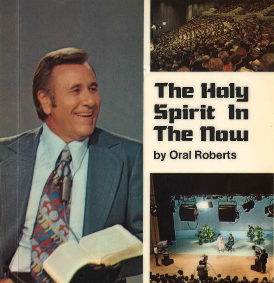 In the Fall of 1972, Oral Roberts established a class on the Holy Spirit called "The Holy Spirit in the Now." Decades of ORU students have enjoyed these powerful teachings on the role of the Holy Spirit in the life of founder of the University. These historic videos are now available in their entirety for download or streaming on the ORU Digital Showcase!
From the Introduction by Oral Roberts: This study on the Holy Spirit In The Now comes out of my personal experience and over 30 years of prayer and study of the Word. It was through the generosity of my good friend, the late J. Arthur Rank, outstanding British businessman, member of the Parliament, and Methodist layman, that the Oral Roberts University's first endowed academic chair on the Holy Spirt was established in the fall of 1972. Because of his great interest in the Holy Spirit, Lord Rank determined to establish this chair at ORU. However, on the day he was to sign the papers, he passed away. The trustees of his estate honored his desire and set aside a generous sum for the next 5 years for this purpose, with the stipulation that they decided then if they wish to continue this as an annual endowment to endow the chair. I am honored to be the first professor of this course on the Holy Spirit. Oral Roberts
In the 1990s, Dr. Robert Voight took over responsibility for teaching this course and produced a manual entitled, "Compete and Perfect Salvation in Jesus Christ."
Note: PDFs of these documents are large may take several minutes to load in preview.
Views expressed in the items posted on the Digital Showcase are those of the contributors only. Their publication on the Digital Showcase does not express or imply endorsement by the Digital Showcase or Oral Roberts University.
Submissions from 1988
Abundant Life (Part 1), Oral Roberts
Abundant Life (Part 2), Oral Roberts
Don't Go Against the Kingdom of God (Part 1), Oral Roberts
Don't Go Against the Kingdom of God (Part 2), Oral Roberts
The Complete and Perfect Salvation in Jesus Christ (Manual), Robert Voight and Holy Spirit Research Center, Oral Roberts University
Submissions from 1982
The Renewing of Your Mind Through the Holy Spirit, Oral Roberts
Submissions from 1977
Holy Spirit in the Now - III, Oral Roberts
Holy Spirit in the Now - V, Oral Roberts
Submissions from 1974
Holy Spirit in the Now - I, Oral Roberts
Holy Spirit in the Now - II, Oral Roberts
The Gift of Prophecy, Oral Roberts
The Miracle Catch, Oral Roberts
The Word of Wisdom, the Word of Knowledge, Oral Roberts
Submissions from 1973
The Baptism of the Holy Spirit & Tongues, Oral Roberts
The Gifts of Healing, Oral Roberts
Tongues and Interpretation of Tongues, Oral Roberts