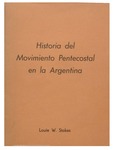 Description
This history of Pentecostalism in Argentina describes the origins of the various Pentecostal Denominations. It also has a chapter on some of the statistics and the doctrines and creeds of the churches.
The history covers the following denominations: Las Iglesias Asamblea Cristiana, Iglesia de de Dios de Cleveland, Asociacion Evangelica Asamblea de Dios, La Union de Las Asambleas de Dios, Iglesia Evangelica Pentecostal - Ciudadela, Asambleas Biblicas - Asociacion Evangelica, Movimiento Cristiano Misionero, Iglesia Evangelica Rayos de Luz, Iglesia Evangelica Gracia y Gloria, Mision Evangelica Asamblea de Dios, Iglesia Evangelica Cuandrangular, Iglesia Pentecostal de Santidad, Asociacion Iglesia de Dios Pentecostal, Iglesia de Dios de Profecia, Asamblea Cristiana Apostolica Porfetica, Iglesia Evangelica Penteostal-ing. Maschwitz, Concilio Evangelico de Iglesias Argentinas, Iglesia Evangelica misonera, Iglesia Evangelica Pentecostal - La Cubre, Iglesia Evangelica Prentecostal Misionera
From the Vison Synan Collection, Holy Spirit Research Center, Oral Roberts University.
These digital scans are copyrighted to Oral Roberts University's Holy Spirit Research Center are not to be re-distributed in any format.
Contents/Indice
INDICE
I. El Comienzo del Movimiento Pentecostal en el Mundo ... 7
II. Los Pnmeros Pentecostal en Argentina . . . . . 13
III. Los Grupos Italianos Pentecostales . . . . . . . . . . . . 17
IV. Asambleas de Dios Es lavas . . . . . . . . . . . . . . . 22
V. Iglesia de Dios . . . . . . . .. . . . . . . . . . . . . . . 25
VI. Asociaci6n Evangelica Asamblea de Dios . . . . . . . . . 29
VII. La Union de las Asambleas de Dios 31
VIII. Iglesias Pentecostales de Origen Chileno ............ 41
IX. Otros Grupos Pentecostales . ...................... 44
XII. Creencias y Costumbres de las Iglesias Evangelicas Pentecost:ales . . . . . 63
City
Buenos Aries, Argentina
Keywords
Pentecostalism, Pentecostal Movimiento, Argentina, Assemblies de Dios, Luis Francescon, Buenos Aries, Iglesia de de Dios de Cleveland, Asociacion Evangelica Asamblea de Dios
Disciplines
Christian Denominations and Sects | History of Christianity | Missions and World Christianity | Other American Studies
Recommended Citation
Stokes, Louie W., "Historia del Movimiento Pentecostal en la Argentina" (1967). Books and Other Holy Spirit Artifacts. 14.
https://digitalshowcase.oru.edu/hsbooks/14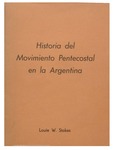 COinS