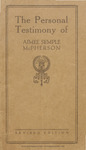 Description
The testimony of Aimee Semple McPherson published by Echo Park Evangelistic Association in circ. 1920.
Table of Contents:
7 - Conviction and Conversion
13 - Baptism in the Holy Ghost
19 - Marriage and Calling into the Vineyard
21 Miraculous and Instantaneous Healing of Broken Ankle
25 - Call to Foreign Fields
27 - Death of My Husband
33 - Work in Canada
35 - Called to Dwell in Tents
39 - Transcontinental Auto Tour
43 - Call to Build the House of the Lord
Images of this book are copyrighted to the HSRC and may not be reproduced in any other format.
Publisher
Echo Park Evangelistic Association
Keywords
Pentecostalism, Sister Aimee, biography, Foursquare, healing, miracles, women in ministry
Disciplines
Christian Denominations and Sects | History of Christianity | Missions and World Christianity | Other American Studies
Recommended Citation
McPherson, Aimee Semple, "The Personal Testimony of Aimee Semple McPherson" (1920). Books and Other Holy Spirit Artifacts. 15.
https://digitalshowcase.oru.edu/hsbooks/15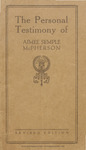 COinS