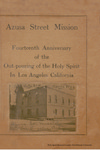 Description
This is a program from the Fourteenth Anniversary of the Azusa Street Outpouring in 1920 put together by William J. Seymour. It was one of the last events at Azusa. Seymour died in the summer of 1922 from a heart attack.
This program contains an outline of Seymour's teaching on the soon coming of Christ and a number of songs that were sung during the meeting.
Songs include:
"Were You There?", "He's Coming Soon", "I Remember Calvary", "Christ Returneth", "The Hallelujah Song", "The Comforter Has Come", "Christ Receiveth Sinful Men", "He Lifted Me", "I Want To Be Ready", "Lord I Want To Be A Christian", "Since Jesus Came Into My Heart"
Publisher
W. H. Giles (Gospel Printer)
Keywords
Azusa Street Mission, Pentecostal Movement, William Seymour, Works
Disciplines
Christian Denominations and Sects | History of Christianity | Missions and World Christianity | Other American Studies
Recommended Citation
Seymour, William J., "Azusa Street Mission: Fourteenth Anniversary of the Out-pouring of the Holy Spirit In Los Angeles California" (1920). Books and Other Holy Spirit Artifacts. 2.
https://digitalshowcase.oru.edu/hsbooks/2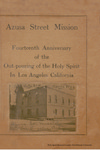 COinS