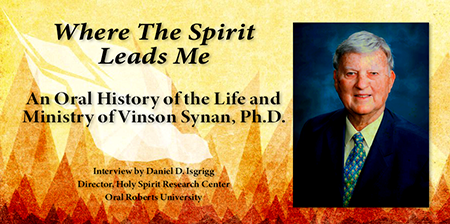 Title
3.3 Synan's Influence on the Charismatic Renewal: The Catholic Charismatic Renewal
Abstract
"Where the Spirit Leads Me": An Oral History of the Life and Ministry of Vinson Synan, Ph.D. by Daniel D. Isgrigg, Director of the Holy Spirit Research Center, Oral Roberts University.
"Synan's Influence on the Charismatic Renewal: The Catholic Charismatic Renewal"
Synan tells of his experience at the Charismatic conference on the Holy Spirit at the University of Notre Dame in 1970. The Lord calls Synan to tell his own Pentecostal brethren what was happening in the Charismatic movement.
©2019, Holy Spirit Research Center, Oral Roberts University
Recommended Citation
Synan, Vinson H. and Isgrigg, Daniel D., "3.3 Synan's Influence on the Charismatic Renewal: The Catholic Charismatic Renewal" (2019). Where the Spirit Leads Me: An Oral History of the Life and Ministry of Vinson Synan, Ph.D.. 10.
https://digitalshowcase.oru.edu/synan/10