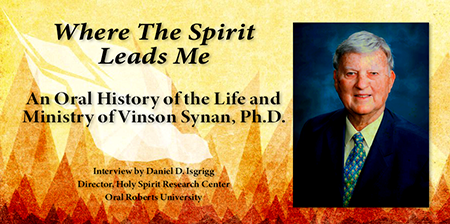 Title
2.1 Pentecostal History and Oral Roberts: Synan Family History with Oral Roberts
Abstract
"Where the Spirit Leads Me": An Oral History of the Life and Ministry of Vinson Synan, Ph.D.
by Daniel D. Isgrigg, Director of the Holy Spirit Research Center, Oral Roberts University. "Pentecostal History and Oral Roberts: Synan Family History with Oral Roberts "
Synan talks about how his father, J.A. Synan, and uncle, Lindsey Synan, met and became friends with Oral Roberts. He shares about the story of Oral Roberts as a Pentecostal Holiness pastor and evangelist. He also talks about the difficulty Roberts had within the Pentecostal Holiness church after he entered the healing ministry.
©2019, Holy Spirit Research Center, Oral Roberts University
Recommended Citation
Synan, Vinson H. and Isgrigg, Daniel D., "2.1 Pentecostal History and Oral Roberts: Synan Family History with Oral Roberts" (2019). Where the Spirit Leads Me: An Oral History of the Life and Ministry of Vinson Synan, Ph.D.. 15.
https://digitalshowcase.oru.edu/synan/15