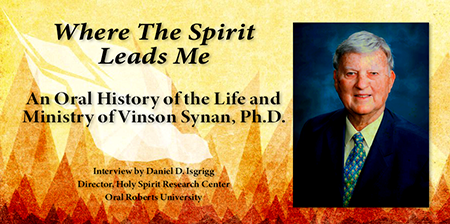 Title
4.3 Synan's Influence on the Charismatic Renewal Part 2: Reflections on the Charismatic Renewal
Abstract
"Where the Spirit Leads Me": An Oral History of the Life and Ministry of Vinson Synan, Ph.D. by Daniel D. Isgrigg, Director of the Holy Spirit Research Center, Oral Roberts University.
"Synan's Influence on the Charismatic Renewal Part 2: Reflections on the Charismatic Renewal "
Synan reflects on the significance of the Charismatic Renewal. He talks about his relationship with John Wimber and the Vineyard Movement, the Toronto revival, and other experiences. Synan also reflects on the meaning of the various labels given to the various movements that ORU now refers to the Spirit-empowered movements.
©2019, Holy Spirit Research Center, Oral Roberts University
Recommended Citation
Synan, Vinson H. and Isgrigg, Daniel D., "4.3 Synan's Influence on the Charismatic Renewal Part 2: Reflections on the Charismatic Renewal" (2019). Where the Spirit Leads Me: An Oral History of the Life and Ministry of Vinson Synan, Ph.D.. 7.
https://digitalshowcase.oru.edu/synan/7