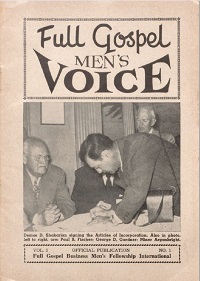 The Full Gospel Business Men's Fellowship International (https://www.fgbmfi.org/) was founded in 1952 by Demos Shakarian in Los Angeles, California. The inter denominational charismatic organization sought to mobilize Christian laymen and businessmen to share their faith. Chapters were started in cities and countries around the world. Many of the 1950s and 1960s most notable Pentecostal and Charismatic leaders spoke at these meetings. This included Oral Roberts, who was one of the founding member and had a close relationship with Sakarian. But the true power was the testimonies of businessmen who had encountered the baptism in the Holy Spirit and were sharing their faith with others.
The FGBFI Voice is the official magazine of the organization. The magazine printed stories of men who were saved and filled with the Spirit in the meetings. The magazine was an evangelistic tool that was distributed widely.
These issues are copyrighted to the Full Gospel Business Men's Fellowship International. The FGBMFI has granted Oral Roberts University exclusive permission to digitize and publish issues of the Voice Magazine. These magazines are not to be re-distributed in any format without permission from FGBMFI and ORU's Holy Spirit Research Center.
Submissions from 1961
Voice - FGBMFI - 9.4 (May 1961), Thomas R. Nickle
Voice - FGBMFI - 9.3 (April 1961),, Thomas R. Nickle
Voice - FGBMFI - 9.2 (March 1961), Thomas R. Nickle
Voice - FGBMFI - 9.1 (February 1961), Thomas R. Nickle
Voice - FGBMFI - 8.12 (January 1961),, Thomas R. Nickel
Submissions from 1960
Voice - FGBMFI - 8.8 (Sept 1960), Thomas R. Nickle
Voice - FGBMFI - 8.6 (July-Aug 1960), Thomas R. Nickle
Voice - FGBMFI - 8.5 (June 1960), Thomas R. Nickle
Voice - FGBMFI - 8.4 (May 1960), Thomas R. Nickle
Voice - FGBMFI - 8.3 (April 1960), Thomas R. Nickle
Voice - FGBMFI - 8.2 (March 1960), Thomas R. Nickle
Voice - FGBMFI - 8.1 (February 1960),, Thomas R. Nickle
Voice - FGBMFI - 7.12 (January 1960), Thomas R. Nickle
Submissions from 1959
Voice - FGBMFI - 7.2 (March 1959), Thomas R. Nickel
Voice - FGBMFI - 7.1 (February 1959), Thomas R. Nickel
Submissions from 1958
Voice - FGBMFI - 6.10 (November 1958), Thomas R. Nickel
Voice - FGBMFI - 6.9 (October 1958), Thomas R. Nickel
Voice - FGBMFI - 6.8 (September 1958), Thomas R. Nickel
Voice - FGBMFI - 6.7 (August 1958), Thomas R. Nickel
Voice - FGBMFI - 6.6 (July 1958), Thomas R. Nickel
Voice - FGBMFI - 6.5 (June 1958), Thomas R. Nickel
Voice - FGBMFI - 6.4 (May 1958), Thomas R. Nickel
Voice - FGBMFI - 6.3 (April 1958), Thomas R. Nickel
Voice - FGBMFI - 6.2 (March 1958), Thomas R. Nickel
Voice - FGBMFI - 6.1 (February 1958), Thomas R. Nickel
Voice - FGBMFI - 5.12 (January 1958), Thomas R. Nickel
Submissions from 1956
Voice - FGBMFI - 4.11 (December 1956), Thomas R. Nickel
Voice - FGBMFI - 4.10 (November 1956), Thomas R. Nickel and Oral Roberts
Voice - FGBMFI - 4.9 (October 1956), Thomas R. Nickel
Voice - FGBMFI - 4.7 (August 1954), Thomas R. Nickel
Voice - FGBMFI - 4.6 (July 1956), Thomas R. Nickel
Voice - FGBMFI - 4.5 (June 1956), Thomas R. Nickel
Voice - FGBMFI - 4.4 (May 1954), Thomas R. Nickel
Voice - FGBMFI - 4.3 (April 1956), Thomas R. Nickel
Voice - FGBMFI - 4.2 (March 1956), Thomas R. Nickel
Voice - FGBMFI - 3.10 (January 1956), Thomas R. Nickel
Submissions from 1954
Voice - FGBMFI - 2.9 (December 1954), Thomas R. Nickel
Voice - FGBMFI - 2.8 (November 1954), Thomas R. Nickel
Voice - FGBMFI - 2.7 (October 1954), Thomas R. Nickel
Voice - FGBMFI - 2.6 (April 1954), Thomas R. Nickel
Voice - FGBMFI - 2.5 (July-August 1954), Thomas R. Nickel
Voice - FGBMFI - 2.4 (June 1954), Thomas R. Nickel
Voice - FGBMFI - 2.3 (May 1954), Thomas R. Nickel
Voice - FGBMFI - 2.2 (April 1954), Thomas R. Nickel
Voice - FGBMFI - 2.1 (February-March 1954), Thomas R. Nickel
Voice - FGBMFI - 1.10 (January 1954), Thomas R. Nickel
Submissions from 1953
Voice - FGBMFI - 1.9 (December 1953), Thomas R. Nickel
Voice - FGBMFI - 1.8 (November 1953), Thomas r. Nickel
Voice - FGBMFI - 1.7 (October 1953), Thomas R. Nickel
Voice - FGBMFI - 1.6 (September 1953), Thomas R. Nickel
Voice - FGBMFI - 1.5 (July-August 1953), Thomas R. Nickel
Voice - FGBMFI - 1.4 (May-June 1953), Thomas R. Nickel
Voice - FGBMFI - 1.3 (April 1953), Thomas R. Nickel
Voice - FGBMFI - 1.2 (March 1953), Thomas R. Nickel
Voice - FGBMFI - 1.1 (February 1953), Thomas R. Nickel