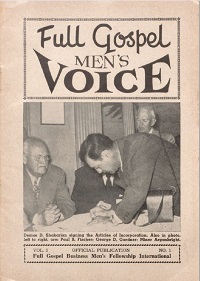 Abstract
Articles include:
"World-wide Fellowship Is Our Goal," Demos Shakarian
"Turned from Atheism to Miracles," Noble Thormodsgaard
"At the Gate of the Iron Curtain," Harold C. Herman
"The Atomic Age Revival is Upon Us," Tommy Hicks
"John Kluzit Receives Third Call to Africa"
"Only One Sound Investment in a Changing World," Miner Arganbright
The Voice magazine is copyrighted to the Full Gospel Business Men's Fellowship International. The FGBMFI has granted Oral Roberts University exclusive permission to digitize and publish issues of the Voice Magazine. These magazines are not to be re-distributed in any format without permission from FGBMFI and ORU's Holy Spirit Research Center.
Recommended Citation
Nickel, Thomas R., "Voice - FGBMFI - 1.3 (April 1953)" (1953). Full Gospel Business Men's Voice Magazine. 10.
https://digitalshowcase.oru.edu/voice/10