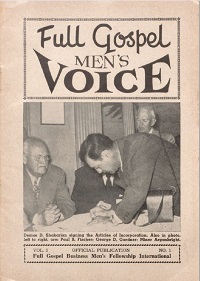 Abstract
This issue includes the following articles:
"Official Dedication of Full Gospel Men's Voice," by Demos Shakarian
"The Lord Hath Need of Thee!" by Jack Coe
"God's Spirit is Moving in the World," Owen Murphy
Marvelous Start for Sioux Falls Chapter," Tommy Hicks
"Jack Epperson's Promise to God,"
"I Have Found Peace of Mind," George D. Gardner
"Full Gsopel Holy Ghost Rallies Add Another Director," R. W. Culpepper
The Voice magazine is copyrighted to the Full Gospel Business Men's Fellowship International. The FGBMFI has granted Oral Roberts University exclusive permission to digitize and publish issues of the Voice Magazine. These magazines are not to be re-distributed in any format without permission from FGBMFI and ORU's Holy Spirit Research Center.
Recommended Citation
Nickel, Thomas R., "Voice - FGBMFI - 1.2 (March 1953)" (1953). Full Gospel Business Men's Voice Magazine. 11.
https://digitalshowcase.oru.edu/voice/11