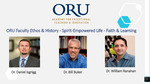 Description
New faculty are introduced to being Spirit-Empowered. What does Spirit-Empowered mean, and why is it important, as a University, faculty member, and educator? Dr. Ranahan (Chair of Biology and Chemistry Dept.) begins with modeling how he integrates faith into a short lecture on sound, light, and neural paths. Dr. Isgrigg (Director of the Holy Spirit Research Center) lectures on how ORU as an institution has progressed since its inception through church history as a Spirit-Empowered university. Dr. Buker (Chair of the Seminary) lectures about how we as disciples of Jesus Christ can abide in Him and experience His fruitfulness in and through our lives.
Resource 1: Wilson, William M. (2018) "Oral Roberts and the Spiritual DNA of Oral Roberts University," Spiritus: ORU Journal of Theology: Vol. 3: No. 2, Article 11.
Resource 2: Isgrigg, D. D. (2018). Oral Roberts: A Man of the Spirit. Spiritus: ORU Journal of Theology, 3(2), 14.
Publication Date
11-21-2022
Keywords
Spirit-Empowered, University, Education, New Faculty, Oral Roberts University
Disciplines
Adult and Continuing Education | Adult and Continuing Education Administration | Adult and Continuing Education and Teaching | Biblical Studies | Christianity | Higher Education Administration | Higher Education and Teaching | History of Christianity | Missions and World Christianity | New Religious Movements | Religious Education | Scholarship of Teaching and Learning
Recommended Citation
Buker, Bill; Isgrigg, Daniel D.; and Ranahan, Wiliam, "ORU Faculty Ethos & History - Spirit-Empowered Life - Faith & Learning" (2022). Professional Development Resources. 3.
https://digitalshowcase.oru.edu/academy_resources/3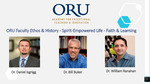 Included in
Adult and Continuing Education Commons, Adult and Continuing Education Administration Commons, Adult and Continuing Education and Teaching Commons, Biblical Studies Commons, Christianity Commons, Higher Education Administration Commons, Higher Education and Teaching Commons, History of Christianity Commons, Missions and World Christianity Commons, New Religious Movements Commons, Religious Education Commons, Scholarship of Teaching and Learning Commons
COinS