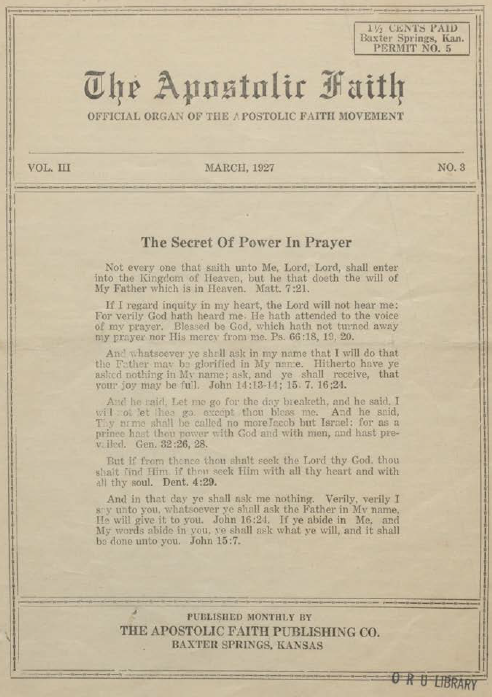 Abstract
This issue includes...
National Camp Meeting announcement
"Is the Church Honest?" - John E. Brown
"A Plea for Deeper Consecration"
"The Voice of God"
"Startling Signs of the Times"
"Holman-Parham" - an announcement of the marriage of Pauline Holman to Robert L. Parham.
"Stanton Launches War on Evolution"
"Russia" by Rev. K. Gretzenger
"The Anglo-Celtic-Saxon Race" - by J. G. Campbell - an article about the Anglo-Israel theory
"Companionate Idea is Called Barbaric Relic"
**Disclaimer: Some of the views of Charles Parham are controversial, particularly his view of race. This information is being made public for its historic value to researchers. Views expressed in the items posted on the Digital Showcase are those of the contributors only. Their publication on the Digital Showcase does not express or imply endorsement by the Digital Showcase or Oral Roberts University.**
Recommended Citation
Holy Spirit Research Center, Oral Roberts University, "The Apostolic Faith 4 no. 7 (July 1928)" (1928). Apostolic Faith - Baxter Springs, KS. 11.
https://digitalshowcase.oru.edu/apostolic_faith/11