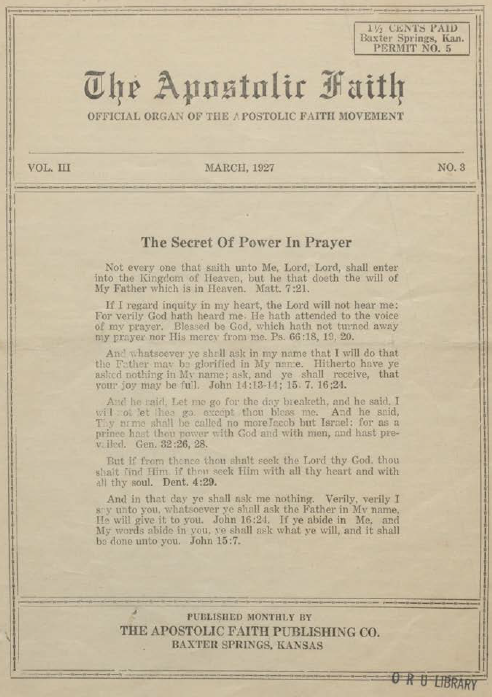 Abstract
** Disclaimer: Some of the views of Charles Parham are controversial, particularly his view of race. This information is being made public for its historic value to researchers. Views expressed in the items posted on the Digital Showcase are those of the contributors only. Their publication on the Digital Showcase does not express or imply endorsement by the Digital Showcase or Oral Roberts University.**
This issue contains the following:
"When Were the Apostles Converted"
"Leaves by the Wayside" - Editorials include an appeal to the Ku Klux Klan (KKK) to spend thier energies on "the restoration of Old Time Religion". Parham held a meeting in Saginaw Michigan at the invitation of the KKK.
"Fundamentals of the Faith"
"Aimee Sees N.Y. Night Clubs" - an article about Amiee Simple McPherson and New York Nightlife.
Recommended Citation
Holy Spirit Research Center, Oral Roberts University, "The Apostolic Faith 3 no. 3 (March 1927)" (1926). Apostolic Faith - Baxter Springs, KS. 2.
https://digitalshowcase.oru.edu/apostolic_faith/2